As the innovator of softgel technologies, Catalent brings over 85 years of experience and expertise in formulation development, delivery and supply to the global Over-The Counter, Nutritional Supplements and Beauty industries. Today, Catalent partners with all top consumer health companies as well as hundreds of innovators around the world to provide a wide array of softgel technology platforms. Catalent produces more than 5,000 consumer health and beauty products that are marketed globally in more than 70 countries.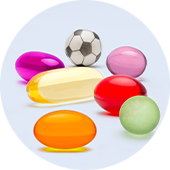 Catalent has pioneered innovations in softgel formulation and consumer preferred dose forms. Our Over-The Counter innovations include OptiGel® Mini Softgel Capsules in a full strength dosage with smaller capsule size and EasyBurst® Chewable Softgels in an easier to take, more convenient, great for on-the-go format. For Nutritional Supplements, our latest innovations with science-based ingredients include Blue Light Vegicaps® Capsules, intended to help protect the eyes from blue light, and Joint Comfort Softgel, intended to help support joint comfort and flexibility. Superior dose design platforms include OmegaZero® microemulsion technology that helps reduce fish burps and plant-based Vegicaps® capsules for a wide range of formulations. For Beauty, CosmoPod® Unit-Dose Capsules provide precise dosing, no mess application in a natural, plant-based shell.
Let's innovate! Differentiated products, faster to market!