EXPANDING THE RANGE OF POSSIBILITIES SOFTGELS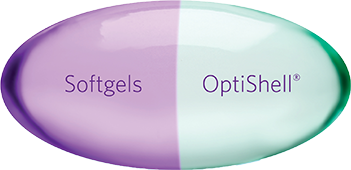 As the inventor of the rotary die encapsulation process still used today in modern softgel manufacturing, Catalent continues to lead the industry with cutting-edge drug delivery innovations. Our award-winning OptiShell® technology platform further advances drug delivery in softgel by providing development solutions for challenging compounds contained within complex fill formulations.
OptiShell® capsules utilize a patented shell derived from plant polysaccharides that are ideally suited for the encapsulation of higher melting point fill formulations. Softgels containing semi-solid matrices for modified release of poorly soluble and/or poorly permeable drug compounds are now an option, and only Catalent has succeeded in achieving FDA approval for such a formulation. For immediate release applications, OptiShell® technology expands the range of compatible fill formulations and excipients available for developing lipid-based capsule formulations, providing more solutions for solving unique drug delivery challenges.
The combined strength of OptiShell® technology and Catalent RP Scherer Softgels enable encapsulation of broader range of lipid-based formulations.
Improves bioavailability for a greater number of poorly water-soluble and poorly permeable compounds
Modified or extended release of compounds delivered in consumer preferred softgels
Solves complex development and formulation challenges beyond conventional softgel technology
Patented shell composition can handle:

Encapsulation of high temperature fill formulations (up to 70˚C) for semi-solid and highly viscous fill formulations
Higher pH fill formulations
A wider range of compatible fill excipients for enhancing drug bioavailability and stability
VALUABLE PRODUCT DIFFERENTIATION
Proprietary technology and process with strong IP protection
Better patient adherence – easy to swallow
Gelatin-free products for expanded markets
Elimination of  potential shell odor and a non-distinguishing taste
We have a long track record of customizing successful programs involving our proprietary advanced technologies:
Pre-formulation and feasibility studies
Solubility screening of New Chemical Entities
Softgel capsule fill formulation development
Small-scale lab encapsulation for early stability data and final formulation selection
Shell development
Strong IP (intellectual property) positions including fill formulations for improved bioavailability
Extensive technical support in softgel capsule product development
Reliable supply from clinical phases to commercial manufacturing
Contingency planning and quality assurance via our expansive global network
Our deep formulation expertise supported by a global infrastructure of cGMP, FDA, EMA and locally accredited softgel facilities will provide a catalyst to your success by tailoring a unique drug delivery solution to bring your product faster to market.