CARDIO K2 TRIPLE STRENGTH VEGICAPS® CAPSULE WITH K2VITAL®
Cardiovascular health problems are a leading global concern. Stress, poor diet, genetic factors, and a lack of regular exercise all contribute to increased cardiovascular risk factors.
Catalent and Kappa Bioscience have partnered to develop an innovative nutritional supplement for heart health. Introducing CARDIO K2 TRIPLE STRENGTH VEGICAPS® CAPSULES. This unique formula combines multiple key ingredients intended to help promote heart health, including K2Vital® vitamin K2 which is an important factor in the activation of proteins which may prevent calcification of arterial walls which is a known co-factor in heart disease1.
Each Cardio K2 Triple Strength capsule also contains high potency Omega-3 fatty acids (to provide 650 mg EPA and 486 mg DHA) and 2000 IU Vitamin D3.
Recommended daily dosage of this product is 2 capsules.
| ACTIVE INGREDIENT | INGREDIENT DESCRIPTION | PURPOSE |
| --- | --- | --- |
| 650 mg EPA and 486 mg DHA (TG 40/30) | Omega-3 fatty acid is an essential nutrient that provides many health benefits | Reduces inflammatory mediators that drive Cardiovascular concerns2 |
| K2VITAL® (to provide 100 mcg Vitamin K2) | Vitamin K2 is derived from meats, cheeses and fermented foods. It may help reduce calcification of tissues which may prevent calcium from accumulating in arteries | Help activate Matrix Gla Protein (MGP) which may inhibit calcification of arterial vessel walls3, and works in conjunction with Vitamin D to direct calcium to bones4,5 |
| 2,000 IU Vitamin D3 | Fat soluble vitamin that is responsible for maintaining the mineral balance in the body, enhancing intestinal absorption of calcium and phosphate in the gut | Contribute to normal absorption/utilization of calcium and normal blood calcium levels 6 |
Click here to learn more about our extensive range of innovative products faster to market.
CARDIO K2 TRIPLE STRENGTH CONSUMER BENEFITS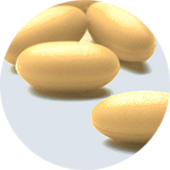 Unique combination formula with Omega-3, Vitamin K2 and Vitamin D3 is intended to help promote a healthy heart health
Vitamin K2 helps maintain a healthy heart
EPA and DHA contribute to normal function of the heart
Presented in consumer-preferred plant-based VEGICAPS® capsules
Explore our online product library to select your next product:
K2Vital® is a registered trademark of Kappa Bioscience AS
These statements have not been evaluated by the Food and Drug Administration. This product is not intended to diagnose, treat, cure, or prevent any disease.