Enteric Coated Softgels For Consumer Health Products
IMPROVE PRODUCT PERFORMANCE AND ENHANCE CONSUMER EXPERIENCE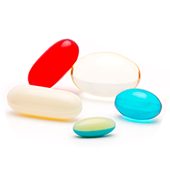 Coated softgel capsules provide new dosage form options for the Consumer Health market. Different coatings can provide delayed release (to prevent release in the stomach) or protection from moisture, if needed. A fixed dose combination product can be created where one drug is included in the coating in addition to another drug (or two) in the fill material. This could help optimize efficacy and stability.
TECHNICAL BENEFITS OF CATALENT'S SOFTGEL COATING SYSTEMS
Enables delayed release of the product until passage from the stomach into the intestine
Enhances stability of products in the acidic stomach environment
Improved API safety/efficacy
CONSUMER BENEFITS OF CATALENT'S SOFTGEL COATING
Our softgel coating capabilities offer multiple advantages, such as:
Reduction of gastric irritation, especially with active that may be harsh on the stomach
Increases consumer compliance by reducing foul-tasting burps from odoriferous supplements such as fish oil and garlic
Easy to digest for consumers with age related digestive issues and pregnant women
Optimizes dosage efficiency
Increased robustness of the products
Improved flexibility in the release profile of the active ingredient
No risk of film coating interfering with the sealing process
Backed by extensive softgel formulation, process development and manufacturing expertise
With over 80 years of global manufacturing expertise, Catalent has the unique advantage of having an extensive network of 10 facilities on 5 continents to provide full service integrated softgel manufacturing and coating capabilities. This integrated approach minimizes the time between encapsulation and coating in order to:
Enhance product quality and efficacy
Increase shelf life of the product
Reduce supply lead time and safety stock
All of our sites are subject to annual review so we can remain in compliance with cGMP, FDA, EMA, and locally accreditation softgel facilities. 
Integrated Softgel Coating capabilities now available in Eberbach, Germany, with Glatt Pan and Perforated Coater GCSmart® 350 designed for:
Softgel coating
300 million+ capsules per year
Flexible batch size: 100 – 300 liters