OptiGel® Micro Technology
INNOVATIVE, CONVENIENT DRUG DELIVERY TECHNOLOGY OFFERING A SMALLER, EASY TO SWALLOW SOFTGEL WITH THE ADDED BENEFIT OF DOSE TITRATION.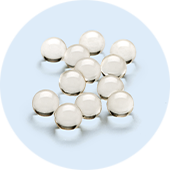 As innovators of softgel technology, Catalent RP Scherer softgel brings more than 75 years of development expertise and manufacturing experience to the full spectrum of drug delivery. Our dedication to innovation has allowed the expansion in processing techniques to include OptiGel® Micro Technology. Softgel is the drug delivery solution of choice that solves complex formulation, solubility, bioavailability, and development challenges, bringing more molecules to market faster.
Catalent's OptiGel® Micro Technology utilizes a unique manufacturing process that, instead of forming softgels through a rotary die process, utilizes a droplet, streamline flow that results in spherical form capsules. These capsules can be sized from 1 – 7mm which allows for smaller capsules to be produced when compared to the traditional rotary die process.
Because the OptiGel® Micro Technology process utilizes the same RP Scherer Softgel capsule shell excipients, the dose form can accommodate the same wide range of fill formulations.
OptiGel® Micro Technology has numerous advantages that can help bring your compounds to market.
Ideal for patient populations where swallowing may pose difficulty such as pediatric, geriatric, oncology, etc. The Seamless technology can make compliance and adherence a less daunting task.
If your therapeutic requires dose titration, we can package an appropriate amount of capsules into a satchet to facilitate administration. Each capsule contains an equivalent dose of the therapeutic therefore a number of dosing levels can be packaged from the same production lot.
The OptiGel® Micro Technology is a proven drug delivery method with over 10 years in commercial production, proven products in the marketplace and over 6 billion capsules produced per year.
Enhanced dose uniformity of your potent compounds and minimize patient-to-patient variability.
Generation of a faster onset of action, reducing API dose, minimizing side effects, and improving your overall treatment performance.
VALUABLE PRODUCT DIFFERENTIATION
Easy to swallow
Appropriate for indications requiring dose titration
Same gelatin capsule shell composition as RP Scherer Softgels
Differentiate your brand with various color, and size options
CATALENT OPTIGEL® MICRO TECHNOLOGY FACILITIES
Our processing expertise in Tokyo, Japan supported by a global infrastructure of cGMP, FDA, EMA and locally accredited softgel facilities will provide a catalyst to your success by tailoring a unique drug delivery solution to bring your OptiGel® Micro product to market.