CosmoPod® Capsules For Beauty
100% PLANT-BASED TWIST OFF SOFTGELS FOR BEAUTY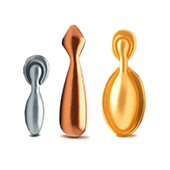 With over 80 years as the leading innovator in softgel technology, our CosmoPod® plant-based capsules can offer new innovation for your beauty brand. Our CosmoPod® twist off capsules are a sophisticated, innovative delivery form that offers differentiated benefits and an enhanced consumer experience to the beauty consumer. Vegicaps® capsules are derived from carrageenan, an all-natural, plant-based seaweed extract. We use a special grade of carrageenan extract to ensure the highest product quality and our plant-based capsules are an ideal solution for consumers looking for safe, animal free cosmetic beauty applications:
Skin
Bath & Body
Hair
Fine Fragrances
Color Cosmetics
COSMOPOD® CAPSULES CONSUMER BENEFITS
Attractive, premium beauty capsules
Capsules are convenient, easy to twist-off and apply
Accurate, pre-measured dosing for optimal effectiveness
Maintains product freshness and effectiveness with every use
Portable capsules are great for on-the-go and travel
100% animal free and preservative free
Biodegradable
Delivers targeted application of concentrated active ingredients
COSMOPOD® CAPSULE TECHNICAL ADVANTAGES
Anhydrous formulas deliver a concentration of active ingredients, with no water and no preservatives
Proven to protect from air and light, improved stability vs. traditional dosage forms
Single use provides optimal freshness
Resistance to higher humidity/temperature which helps maintain stability at variable conditions
Preservative free formulas are ideal for sensitive skin
Plant based, odor-free shell
Compatible with a wide range of cosmetic, fragrance and bath ingredients
CATALENT DEVELOPMENT EXPERTISE
Cosmeceuticals: Silicone and non-silicone based formulas

Pure Retinol and Pure Vitamin C at diversified dosages and types
Peptides with diversified structures to maximize efficacy

Natural Ingredients: Oil based formulas

Innovative and traditional natural ingredients
Ingredients sourced from the Arctic to the Amazon

Dermatological: Daily treatments for various skin types

Preservative free
Pre-measured for optimal dosage every time
Innovative and effective ingredients for highly targeted action

Customer Fill / Proprietary Ingredients

Formulas customized to your specifications
R&D support to develop water-free fills compatible with capsule technology
MARKET READY FORMULATIONS
More than 200 formulas for face, body, hair, bath & fragrance
10 different innovative bath formulas
Diversified portfolio of 'ready to go' formulas
Fine fragrance and essential oil encapsulation capabilities
To explore our global product library with 500+ formulations for OTC, Nutritional Supplements & Beauty click here.
All of our sites are subject to annual review so we can remain in compliance with cGMP, FDA, EMA, and locally accredited softgel facilities.