Zydis® Fast Dissolve Technology Platform
MEET CONSUMER DEMAND FOR FAST RELIEF
Zydis® fast-dissolve formulation is a unique orally disintegrating tablet (ODT) that disperses almost instantly in the mouth – no water required. Dissolving in little as three seconds and up to 10x faster than other ODT products, Zydis® technology continues to be the global best-in-class ODT technology for over-the-counter drugs.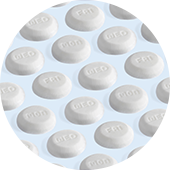 This convenient, fast and palatable dosage form is an excellent choice for consumers with dysphagia (swallowing disorder), pediatric and geriatric patients. It is an ideal platform for active ingredients treating pain, allergies, travel-related illness and other indications where rapid dosing and absorption is required.
With over 80 years as a leading innovator in the global OTC industry and more than 30 Zydis® ODT products launched in 60 countries, we have strong track record and expertise in helping clients expand their portfolio into new dosage forms that are convenient to use. Whether you are trying to enhance pharmacokinetics through pre-gastric absorption, to increase consumer compliance, to look for new formulations for better claims, or to seek a marketing advantage for a valued brand, we can be your innovation partner to increase the value of your investment and find new opportunities to grow your brand.
ZYDIS® ODT CONSUMER BENEFITS
Easy to take: Orally dissolves in as little as 3 seconds, leaving a good mouth feel; gives consumers the flexibility to take without water at any time or place
Taste & flavor: Taste masking and wide range of flavors formulated for specific markets, including pediatrics and veterinary medicine
Better pregastric absorption for certain drug compounds
Unique Packaging: Including child-resistant options
Various applications

Dysphagia
Pediatric and geriatric application
Fast Onset
Ease of use

<

Wide range of therapeutic areas

Allergy (antihistamine, immunotherapy)
Anti-emetic (travel sickness)
Gastro (diarrhea, constipation)
Anti-psychotic (Parkinson's disease, schizophrenia)
Anxiolytic (anti-depressants)
Through expert analysis and interpretation of data, our Zydis® fast dissolve technology team will fully characterize your API and associated Zydis® formulations throughout the development process to provide a robust data package in support of regulatory filings.
Feasibility programs
Full in-house analytical and regulatory services 
Smart full-lifecycle management from molecule to market – with Lean efficiency standards
Expert handling and maximization of potent and controlled drugs
Bench, pilot, and full-scale cGMP manufacturing in the U.S. and Europe
We employ the most advanced equipment for our Zydis® fast dissolve preformulations and formulations. The resulting data is used to direct the selection of Zydis® formulators and manufacturing process conditions.
Optical microscopy
Freeze-drying microscopy
Particle size analysis (laser diffraction)
Dynamic Vapor Sorption
Characterization of hydrates and polymorphs
X-ray powder diffraction (XRPD)
Characterization of moisture sorption properties and physical analytical chemistry (HPLC, UV, NIR, FTIR)
Catalent's world class ODT center of excellence is based in Swindon, U.K, dedicated to Zydis® research, development and unit production with capabilities in controlled and potent drug. The cGMP facility is subject to regular reviews by the U.S. Food and Drug Administration (FDA), The Health Protection Branch of the Canada Department of National Health and Welfare, the U.K.'s Medicines and Healthcare products Regulatory Agency (MHRA) and the European Medicines Agency (EMA).