Vegicaps® Capsules
100% PLANT-BASED TECHNOLOGY FOR HEALTHY LIFESTYLE COMPOUNDS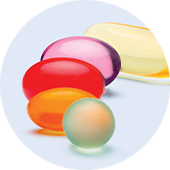 As a leading innovator of softgel technology, we've developed a plant-based softgel capsule for consumers seeking an animal free alternative to gelatin capsules. Vegicaps® capsules are GMO free, plant-based shell, free from animal derivatives, gluten, and modified sugars. The plant derived shell formulation may be an optimal solution for your challenging formulations and offers the capability to handle a wider range of healthy lifestyles compounds, especially those with higher melting points.
VEGICAPS® CAPSULE TECHNICAL ADVANTAGES
Plant based shell solves complex development and formulation challenges
Helps improve bioavailability of poorly water-soluble and poorly permeable compounds
Enhances dose uniformity of your potent compounds
Encapsulation of higher temperature fill formulations
Higher pH fill formulations
Wider range of compatible fill excipients
Enhanced stability for sensitive actives with higher water content
Safe and tamper evident
VEGICAPS® CAPSULES CONSUMER BENEFITS
GMO free, plant-based shell free of all animal derivatives
Appropriate for consumers seeking products to fit their healthy lifestyles
Plant based shell, well suited for consumers with dietary and religious or cultural restrictions
Gluten free and Sugar free
Easy to swallow softgels for improved consumer compliance
Versatile softgel options available in variety of colors, shapes, sizes, and clarity
Odor and taste free
CATALENT DEVELOPMENT EXPERTISE
Preformulation and feasibility studies
Solubility screening of NCEs
Softgel capsule fill formulation development
Small-scale lab encapsulation for providing early stability data and final formulation selection
Shell development

An extensive shell library, which enables us to offer a wide variety of options for a range of products
A large range of shell formula possibilities and compatibility concerns

IP (intellectual property) positions including fill formulations for improved bioavailability
Extensive technical support in softgel capsule product development

Self-emulsifying/micro emulsion vehicle systems
Unique formulations leading to patentable line extensions

Reliable supply from clinical phases to commercial manufacturing
Contingency planning and quality assurance via our large global network
All of our sites are subject to annual review so we can remain in compliance with cGMP, FDA, EMA, and locally accredited softgel facilities.