DUAL-ACTION SOFT LOZENGE FOR THE DELIVERY OF MULTIPLE ACTIVE INGREDIENTS FOR IMMEDIATE & LONG LASTING BENEFITS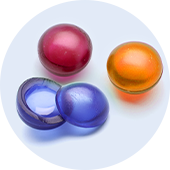 As leading innovator of softgel technology, we've developed an innovative center in shell system that delivers multiple active ingredients in a single softgel lozenge. SoftDrop™ softgel lozenges are a dual delivery platform; the unique soft outer shell dissolves to provide a liquid burst and prolonged active release from the shell.
SOFTDROP™ TECHNICAL ADVANTAGES
Multiple API delivery system with targeted dosing capability 
Ability to combine water soluble and oil soluble APIs:

Feasible API's shell: All water soluble API's
Feasible API's filling: Essential oils and all oil soluble API's 

Able to handle high local concentration of active ingredients 
Dissolvable shell offers prolonged release profile
SOFTDROP™ CONSUMER BENEFITS
Multiple active ingredients increase product efficacy
Soft dissolvable outer shell provides longer lasting relief where you need it most
Dissolvable shell lingers providing extended cooling and soothing sensation
Liquid center provides great tasting burst of active for immediate relief
Enjoyable and great tasting soft lozenge improves consumer compliance 
Versatile softgel options available in variety of colors, shapes, sizes, and clarity
CATALENT DEVELOPMENT EXPERTISE
We have a long track record of customizing successful programs involving our proprietary advanced technologies:
Developing Preformulation and feasibility studies 
Solubility screening of NCEs
Softgel capsule fill formulation development 
Small-scale lab encapsulation for providing early stability data and final formulation selection 
Developing wide variety of shell formulation possibilities and compatibility to support range of products
Strong IP (intellectual property) positions including fill formulations for improved bioavailability
Extensive technical support in softgel capsule product development

Self-emulsifying/micro emulsion vehicle systems
Unique formulations leading to patentable line extensions 

Reliable supply from clinical phases to commercial manufacturing
Contingency planning and quality assurance via our large global network
All of our sites are subject to annual review so we can remain in compliance with cGMP, FDA, EMA, and locally accreditation softgel facilities.